---
Posted on June 01, 2020 at 12:59 pm by Kent White
---
Job type
This is a full-time position Monday - Friday, 8:30 am to 5:00 pm with occasional overtime and out-of-state travel. Candidates will frequently travel in-state and will be required to work in an rotational on-call schedule for after-hours service.
Location
East (Detroit, Flint, Saginaw), Michigan
Job Description
Job Profile
Service personnel, including Field Service Engineers, are responsible for on-going Planned Maintenance (PM) and Corrective Maintenance (CM) of high-level diagnostic and imaging equipment at customer facilities. Provide leadership and support for managing equipment and operations at the Home Office. Assist in the planning and installation of diagnostic and imaging equipment. Present the company well using the highest standards of customer service and professionalism.
Major Duties and Responsibilities
Knows, understands, incorporates and demonstrates the mission, vision, and core values of Kalamazoo X-Rays Sales in leadership behaviors, practices, and decisions.
Maintains a working knowledge of applicable federal, state, and local laws, regulations and industry standards.
Complies with company Standard Operating Procedures in order to ensure adherence to federal, state, and local laws as well as company certifications in a manner that reflects ethical and professional integrity.
Meets target objectives and standards for timeliness and quality of Planned Maintenance (PM) schedules and repairs of general and specialized clinical equipment.
Orders parts and supplies, within established department guidelines, that are required for the emergency service and repair of all radiological and general medical equipment.
Responsible for coordinating repairs with users when needed, this includes follow-up paperwork and verification of issue resolution.
Attends training sessions on equipment maintenance in order to keep up-to-date on technological and medical equipment advances.
Conducts in-service or coordinates training sessions for radiology clinical/professional staff on proper use and safety of advanced radiology equipment. Also, provides assistance and training to Biomedical Equipment techs I and II as assigned.
Provides on-call service coverage after normal business hours.
Maintains high level of customer service to ensure customer satisfaction.
Participates in team work by:

Keeping others informed
Initiating group decision making
Working to accomplish team objectives and projects
Seeking feedback about one's effectiveness as a team member

May be assigned other duties as deemed necessary by management.
Preferred Qualifications
Associates of Applied Sciences Degree in related field of medical electronics, electronic technology, imaging service technology or equivalent related military training and experience. Certified Radiology Equipment Service (CRSE) preferred but not required.
Ability to analyze and interpret complex information related to malfunctioning imaging equipment as described by clinical staff, and then determine equipment operational condition. Follow complex written instructions, perform tasks and document actions taken to restore service.
Must be comfortable operating in a collaborative, shared leadership environment.
Must possess a personal presence that is characterized by a sense of honesty, integrity, and caring with ability to inspire and motivate others to promote the philosophy, mission, vision, goals, and values of Kalamazoo X-Ray Sales, Inc.
Strong communication and inter-personal skills are required to interact positively with all levels of customer personnel and vendors to achieve positive outcomes, including but not limited to physicists, physicians, administration, etc.
3 to 5 years' experience in the x-ray repair and service field required with proven knowledge and skill and diagnosing and repair equipment both at the acquisition and generation level.
Carestream DRX and Revolution training preferred but not required.
Essential Skills
Detail oriented
Excellent people and phone skills
Strong communication skills
Professional email communication abilities
Computer skills including Excel and Word
Leadership abilities
Ability to handle stress
Ability to evaluate and prioritize
Problem solving abilities and flexibility
Positive attitude
Function independently
Ability to physically balance, bend, climb, crawl, crouch, kneel, reach, sit, stand, squat, twist, and walk
Ability to follow OSHA guidelines while in a hazardous environment(s) such as electrocution potentials, mechanical energies, bloodborne/airborne pathogens, dust and inclement weather, marked changes in temperature and/or humidity, radiation, fumes/vapors, sharp instrument tools, hazardous liquids, and operating devices.
Ability to hear speech, distinguish sounds, and speak.
Must have near vision, far vision, depth perception, and be able to distinguish colors
Must be able to pass a DOT physical regularly.
Must have sensory ability to distinguish hot, cold, range of temperature, surfaces, fine motor skills, manual dexterity, and detect/distinguish colors.
Maintains safe working environment for self, other associates, patients, visitors, customers, medical staff in accordance with applicable standards and procedures relevant to job duties.
Must be able to carry or lift up to 50 pounds routinely (20% of the time)
Must be able to push or pull over 100-pound frequently (20% of the time)
Apply Now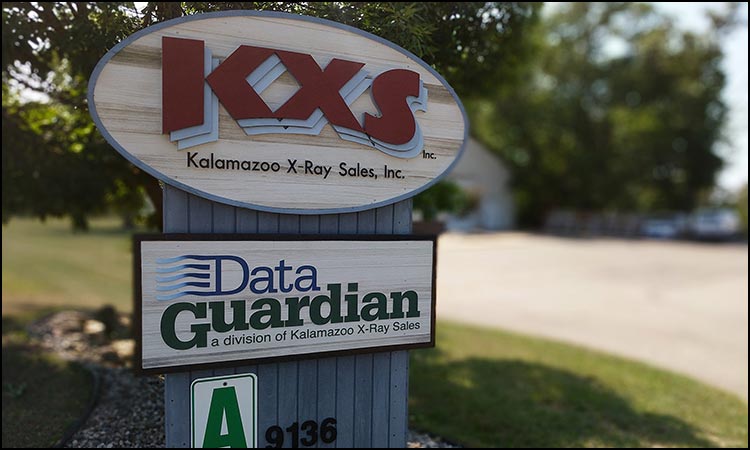 Kalamazoo X-Ray Sales, Inc. is a local, family-owned and operated medical imaging service, sales, and supply company based in Kalamazoo, MI since its inception in 1968. Kalamazoo X-Ray Sales, Inc. is also the parent company to Data Guardian, a NAID Certified information management company founded in 2004 specializing in document destruction, scanning, and records storage and management.

As a company, we are committed to excellence, integrity, flexibility, and positivity for ourselves and our associates. If you feel you embody these traits and possess the skills required to excel in our organization, we encourage you to view our current openings.