WHAT IS THE AeroDR® PORTABLE RETROFIT UNIT?
The AeroDR® Portable Retrofit unit has been designed to quickly, easily and economically turn your current portable X-ray unit into a digital wireless solution. This unit has a very small footprint (384mm x 384mm x 72mm) and is small enough to be installed and stored inside the cassette storage bin. It is completely self-contained and includes two long life batteries for self-powering operation.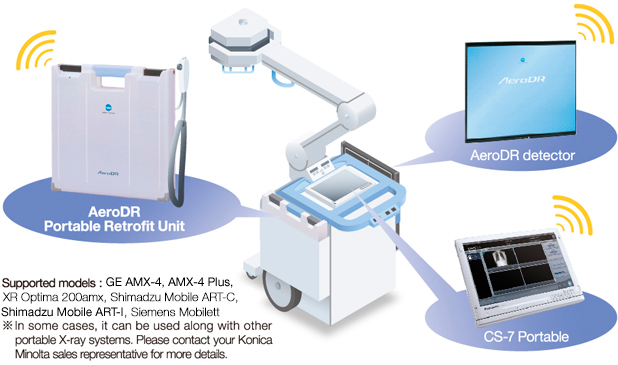 Control Station CS-7 Portable
The CS-7 portable control station features the same powerful yet easy to use imaging software environment as found on the CS-7 control station used in general radiography rooms. This common user interface delivers a familiar tool that ensures the same outstanding image quality and usability regardless of the imaging application.
Image preview is delivered in approximately 3 seconds and can be viewed prior to leaving the patient's side. The CS-7 portable controller can be mounted onto supported portable units using the supplied custom mounting hardware.