ntelligent Patient Scheduling
Exa™ RIS makes scheduling easy. Input appointments by patient, calendar or resource (modality, physician, procedure) and view the first available time slot. The color-coded scheduler is designed to alert schedulers of time concerns for insurance verification. The colors help to select more appropriate times for imaging studies based on the specific time required for insurance verification
With Secure Scheduling the RIS software will notify if a resource is double booked and not allow a patient to double book on multiple resources at the same time
Intuitive Patient Registration notifi es and suggests a merge when registering duplicate patient fields
Easily reschedule patients without re-entering exam and CPT information
With a dedicated schedule for walk-ins, patients without appointments can be added to the facilities records with no complications
Referring Physician Portal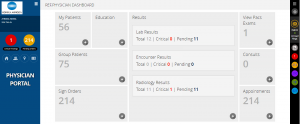 Give referring physicians secure, remote Web access that they will actually use! While other systems offer more complex means of providing physicians access, Konica Minolta's RIS is focused and designed to make referring physician access simple and easy to use. Physicians can simply drop a note and let the imaging center experts schedule exams. Additionally, the schedule is color-coded in order to alert those scheduling of time concerns for insurance verifi cation. Referring physicians have access to:
View images, reports, and scanned documents depending on facility permissions
Provide patients with their exam prep documentation printed directly from the Exa software
Electronically sign-off for exam orders
Patient Portal
Patients have access to administrative digital forms that are required to be fi lled out for appointments, in advance via the patient portal. Patients can also use the portal to download copies of their images and reports in a shareable format.
Procedure-Diagnosis Validation
Reduce insurance denying a payment with Procedure-Diagnosis Validation. Exa RIS compares ICD 10 and CPT codes to ensure the exam generated is appropriate for the presented ailment to reduce insurance rejections.
The Exa RIS solution produces a statistical analysis to determine the likelihood of receiving insurance payment for procedures based on the patient's initial presentation
Exa RIS is preloaded with CPT codes. Save time coding and improve claim processing efficiency
Customizable Features
Customize your web-based RIS home screen, access levels, and chat. Configure access levels based on referring physician, personnel rank, and preference.
Login screen can be customized to include facility name and logo
Facility dashboards - RIS home screen can include any of the following: outstanding studies and reports to be signed, noteworthy results, calendars, and open tasks among others
Includes enterprise dashboard for facility-wide communications including company calendar, reminder, newsletters, and more
Customizable forms can be created for patient data entry to speed the intake process
Instructional material for patients can be generated based on specific types of exams for education purposes
Custom Workflow Design Engine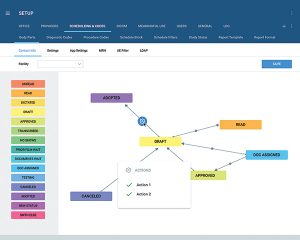 Build your workflow based on your facility needs. Choose from the drag and drop status options to design your preferred imaging workflow. The order of operations for an imaging study can vary drastically from business to business.
Completely Meaningful Use Certified:
Exa is the first product to contain full modules for RIS, PACS, and EHR. This allows the product to comply with Meaningful Use Stages 1 and 2.
PACS Integration
The Exa platform is a robust database of fully web-based software solutions. Adding the Exa PACS takes the physician and patient portal to the next level. Referring physicians now have easier access to patient data. Any referring physician can log in regardless of operating system, local security policy, or browser. This is truly anywhere access.
Exa PACS
Konica Minolta's PACS was designed with the purpose of providing never before seen speed and workflow efficiency with the most advanced features and toolsets available. All prior PACS have been forced to sacrifice either speed or functionality, but Exa delivers both.