The Konica Minolta ImagePilot Aero combines the workflow and imaging efficiencies of the extremely lightweight, wireless AeroDR® flat panel detector with the ease-of-use of ImagePilot imaging software. Our AutoPilot automatic image processing enables users of all experience levels to effortlessly achieve superb, consistent image quality.
Our cassette-sized ImagePilot Aero panel combines a fast three-second image display with a lightweight and rugged, carbon fiber unibody design, creating a convenient to use and highly durable system.
Being wireless gives you the flexibility to perform virtually all examinations without the constraints of a wired system. Plus, the innovative battery design significantly reduces charge time and improves work-flow efficiency thus increasing patient throughput and technologist productivity.
Only ImagePilot Aero can be backed by a five year TCO (Total Cost of Ownership) plan to help you protect and better manage your imaging investment.
Performance/Productivity
ImagePilot Aero significantly enhances imaging performance and workflow.
Three-second preview
The ImagePilot Aero provides the imaging speed demanded by many practitioners to increase their exam throughput and patient comfort. Images are viewable within three seconds of exposure completion and cycle times are as low as 9 seconds.
Power Management
The AeroDR® panel uses a lithium ion capacitor power supply, not a battery. This power supply lasts longer between charges and, unlike battery powered systems, never requires replacing. The lithium ion design also means quicker full charge (30 minutes) and the ability for a stat short charge (eg. A 3 minute charge can last several exams). Not having to replace and discard batteries is environmentally friendly and cost effective.
Wireless DR Workflow
The wireless AeroDR panel enables versatile acquisition, from in-bucky to cross table to standing exams. With no cables to manage, users can get more done, more safely and with less effort.
ImagePilot Viewer - Zero Footprint Viewer
Use an iPad to easily view images from any room in the office.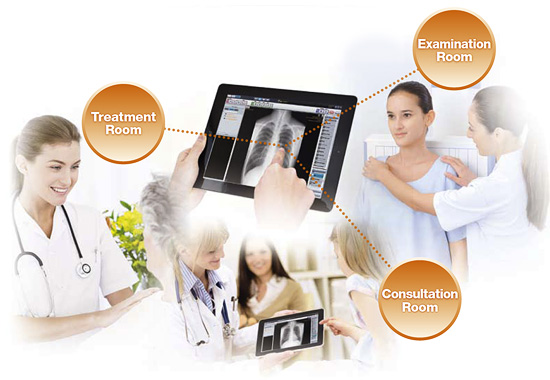 Reliability
Konica Minolta has long been known for the reliability of its products. This well-earned reputation continues with the Digital Radiography product line. Digital Radiography customers must carefully select products from reputable vendors as well as products with design characteristics that maximize their uptime and minimize total cost of ownership over the product life. Konica Minolta's ImagePilot Aero technology contributes to this through its DR panel design and ImagePilot platform architecture. Greater reliability means greater economic value.
DR panel structure
The structural design of the AeroDR panel significantly increases durability. The carbon fiber monocoque (unibody) design has no battery compartment to compromise the external body integrity. Because it is carbon fiber, it is stronger than steel and lighter than aluminum. As a result, the panel can absorb more stress and is less susceptible to damage from being dropped.
The completely sealed cassette can be wiped clean with approved cleaners—further helping your department achieve proper infection control protocols.
Image Quality
The AeroDR panel is designed and manufactured by Konica Minolta. We use a CsI scintillator for increased detector quantum efficiency (DQE). It is physically grown onto the image detector in our factory, providing optical efficiency unlike any other design. The CsI crystals form "light pipes" that guide the X-ray generated photons to the receptor layer of the panel rather than a granular scintillator that scatters the photons.
As a result of the physical structure, detector efficiency is maximized. This translates to sharper images, excellent dose efficiency, and better patient care - for clinical confidence demanded in today's healthcare environment.
Easy Transition to DR
ImagePilot Aero also simplifies any transition to DR. From automated image processing to the all-in-one design, facilities will be performing exams and be fully functional in very little time.
AutoPilot Image Processing
AutoPilot automatic algorithms provide incredibly consistent image quality right out of the box. Additionally, AutoPilot helps compensate for technologist and technique variability. New users produce superb diagnostic images effortlessly. There is no need to designate body part, exam, or view details. Just take the desired exposures and AutoPilot does the rest.
All-in-One
The all-in-one design of ImagePilot means one user interface for acquisition and viewing. This translates to a quick learning curve. ImagePilot can provide both acquisition and PACS, so there is only one system to maintain and upgrade over time.
ACQ
Acquisition Only – Alternatively, ImagePilot can be configured for acquisition only systems for sites that already have PACS. These customers will still benefit from AutoPilot.
Five year TCO packages
Unique to the clinic market, the Five Year Total Cost of Ownership (TCO) packages protect your investment. Designed to eliminate installation, maintenance and IT costs typically associated with digital imaging, the Five Year TCO provides peace of mind with unlimited parts coverage, 24x7 technical support, software upgrades and real-time, secure cloud based collaboration and archive.